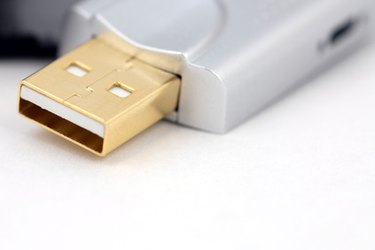 To create or delete a partition on a hard disk without the use of a Windows operating system, you must use a bootable disk or USB drive with Fdisk installed. Fdisk is a DOS utility that allows users to configure the partitions on a hard disk. A bootable drive installed with this utility is particularly useful if you are unable to boot to your hard drive, such as due to a logical disk failure.
To make a bootable USB disk with Fdisk included, you must format the USB drive and install to it the contents of a Windows boot disk.
Step 1
Go to AllBootDisks.com. Locate your version in the list of Windows operating systems, then click the "Download Boot Disks" link.
Step 2
Click the arrow next to "Automatic Boot Disk" and download all of the files to an empty folder on your PC.
Step 3
Right-click "Start." Click "Explore." Open the folder containing the file or files you downloaded from the site. Double-click the file or files to extract the contents to a new folder. Click "OK."
Step 4
Click "Cancel" when the "Insert floppy to write" box appears.
Step 5
Download and install the HP USB Disk Storage Format Tool to your computer. Insert your USB drive into a free USB slot, then run the HP USB Disk Storage Format Tool.
Step 6
Select your USB device from the drop-down, then change the file system to "FAT32."
Step 7
Check "Quick Format," and "Create a DOS startup disk." Click the "..." button and browse through your files until you find the folder containing the extracted files.
Step 8
Select the folder, then click "OK." Click "Start" to format the drive. Click "Yes" when the warning message appears.