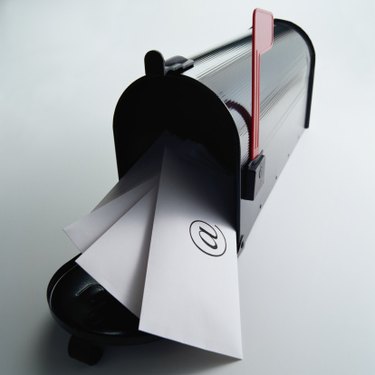 Having your own custom domain name for your business email makes you look more credible to your customers. However, some people find that they would prefer to keep the familiar functionality of their Gmail account. By configuring your Gmail settings correctly, you can seamlessly integrate your business email account into an existing Gmail account. If done correctly, your customers and business associates will never know that you are using a free email service.
Step 1
Set up your business email address to automatically forward incoming messages to your Gmail account. Every mail service has slightly different steps for forwarding messages, but virtually all of them have a built-in function for doing so. Check with your email provider to find the forwarding steps for your account.
Step 2
Open the "Settings" menu within Gmail. Click on the "Accounts and Import" tab.
Step 3
Click the "Import Mail and Contacts" button. A pop-up window will appear. Type in your business email address and password to begin the importing process. Though this step is optional, it is a good way to keep all of your past messages and contacts in one place, just in case you need them at a later date. Return to the "Accounts and Import" submenu when complete.
Step 4
Locate the "Send mail as" section. This option allows emails from your Gmail account to appear to the recipient as if they were sent from your business email. This way, you can preserve the professionalism of having your own personalized domain name while still being able to utilize Gmail.
Click the "Send mail from another address" button. Enter your email address and password into the pop-up window as directed. Choose whether or not you want to use that address as your default sending address. When composing an email, you can choose your "Send from" address from a drop-down menu within the composition screen.
Step 5
Click on the "General" tab. Scroll down to the "Signature" section. Create a professional automatic email signature that includes your name, your business phone number and your business' website. Scroll down to the bottom of the page and click "Save changes" when finished.
Tip
If you have multiple business emails, you can set up Gmail forwarding and the "send from" option with as many accounts as you need to.