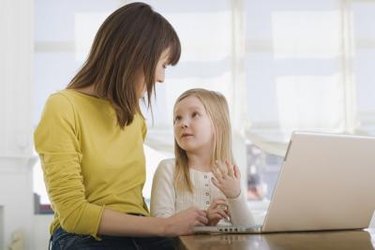 Yahoo has a special program for children under age 13, a Yahoo Child Account. This account allows a parent to monitor a child's email messages and messenger contacts. The child account is linked to a parent's existing Yahoo account, changing it to a Family Account. Be sure to keep the family account password secure. If the child has the password, he may be able to make changes to the account without your permission. A valid credit card is required (for age verification) to set up a Yahoo Child Account.
Step 1
Sign in to your Yahoo.com account, or click "Sign Up" to create a new Yahoo account. This account will be the family account; you'll use it to monitor your child's email.
Step 2
Visit the Yahoo sign up page to begin creating the child's email account (see Resources below for link). Make sure you are signed in to your Yahoo account. Input the child's name and date of birth, then create the login ID and password. Complete the "Captcha" puzzle and click "Create Account." This redirects you to the Yahoo Family Account page.
Step 3
Input your credit card number and billing address. Yahoo charges 50 cents to create a child's email account. Click "Place Order and Create ID."