HTML5 allows you to force the visitor's Web browser to download files, such as PDFs, instead of opening them in the browser. Alternatively, you can embed and display your PDF files inside the page, or let the Web browser display them instead of opening an external PDF viewer.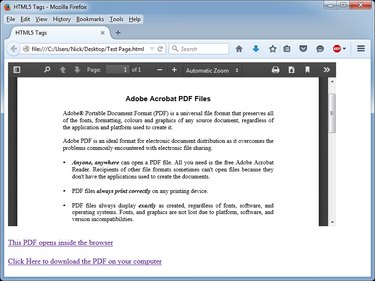 Forcing the Browser to Download the PDF File
Step 1
Open the HTML file in the HTML editor of your choice. If you don't have an editor, you can use Windows Notepad text editor to edit your Web pages.
Locate the place where you want to display the hyperlink in the document. The content of the Web page can be found between the and