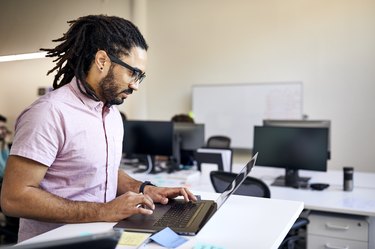 For years, Microsoft Excel has provided users with an array of powerful tools that are equally compatible with database management, office productivity, personal organization and more. Although Excel is commonly associated with the creation of spreadsheets, the table-based cell system included in this software is far more open-ended and functional than it may initially appear. In fact, you can use Excel's onboard tools to create calendars. Building an Excel drop-down calendar is possible for users across a variety of different skill levels and abilities.
Tip
The Developer options included within Excel allow users to create and utilize a variety of dynamic features. Creating a drop-down calendar in Excel is as simple as accessing the appropriate Developer tools and locating the specific Date and Time Picker Control.
Exploring the Basics of Excel
Central to the functionality of Microsoft Excel is a dynamically adaptable cell structure. These cells are not openly capable of holding static data, such as individual numbers or text content, but also can be used as a placeholder for mathematical formulas, responsive data and internet queries. It is this level of flexibility that makes Excel a core component of virtually all business platforms in existence today.
Excel is just one of several applications that constitute the greater Microsoft Office suite. First introduced in 1990, Microsoft Office has evolved significantly over the past 29 years and has become arguably the most popular software application in existence.
Whether this is your first time using Excel, or one of several projects you have managed within the software platform, learning how to insert a calendar in Excel will certainly provide you with fresh insight into the capabilities of this program.
Building the Excel Date Drop-Down Calendar
In order to get started with your calendar, your first step should be to locate the Developer tab in your workplace ribbon. If you don't see the Developer tab, this is likely due to the fact that you need to customize your project workspace. First, right-click on the ribbon itself and select the Customize the Ribbon option from the menu that appears. At this point, click the box next to the Developer option which appears in the right-hand side of the menu. This will ensure that the Developer options are accessible.
Now, return to your ribbon and select the Developer icon. From here, select the Controls option, followed by the Insert button. Next, navigate to the More Controls option and then select the ActiveX controls. At this point, a variety of control functions will appear in the menu. Locate the Microsoft Date and Time Picker Control and then press OK.
Exploring Excel's Design Mode
Once you have made this selection, Excel will automatically enter Design mode. At this point, you can freely resize your calendar as needed. Keep in mind that you will not be able to access the drop-down functions of the calendar until you exit Design mode. You can do so by clicking on the Design tab within the ribbon, moving to the Controls option and then turning off the activated Design Mode.
At this point, your calendar should include all of the drop-down features you expected. You can return to Design Mode at any point in time if you wish to further customize the appearance or functionality of your drop-down calendar. Your calendar can be customized throughout the workflow until you are satisfied with your results.