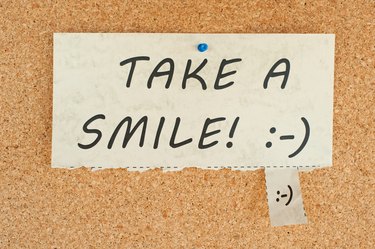 Using flyers is an effective way to advertise. However, making oodles of copies of your flyer to give away to people can get expensive and simply posting flyers on bulletin boards is not as efficient as letting people have the crucial information at their fingertips. Luckily, there is a third option that is cost effective, practical and efficient -- the tear-off flyer. This type of flyer is posted in public areas but has space at the bottom where people can literally tear off essential information such as phone numbers or website addresses. You can create your own flyer with tear-offs using Microsoft Word.
Step 1
Open a new document in Microsoft Word and create the design and content of the main portion of the flyer. How you choose to do this will obviously depend on your own preferences and the purpose of the flyer, but adding attention-grabbing items is always a good idea. Some examples of things that will get noticed on a flyer may include using WordArt, including pictures, colorful graphics, bold fonts, borders, special formatting and compelling content. Try to make your flyer not only stand out from the rest, but design it to compel people to take action as well.
Step 2
Scroll down to the bottom of the page and insert a table. In Word 2010, go to the "Insert" menu, click the "Tables" option and then select the desired options for the table. For this purpose, only one row is needed and the number of columns should equal the desired number of tear-offs you wish to have on your flyer. Click "OK" and the table appears. When it does, click on each of the cells and type in the desired text, such as telephone number and website address, in all of the different cells.
Step 3
Highlight the entire row of cells; then go to the "Layout" tab under the Table Tools tab on the ribbon at the top of the page and click the "Text Direction" button. Click multiple times to choose the desired vertical text orientation.
Tip
If you don't want to create a flyer with tear-offs from scratch, Microsoft offers free templates of this style of flyer from its website (see links in Resources).
Warning
Make sure to save your flyer frequently to avoid losing any work.