As your business grows, it becomes harder to perform payroll tasks manually. While it is too difficult to calculate earnings for a couple of employees, a computer payroll accounting application makes things easier. Payroll applications, however, can be expensive and take time to implement and master. Microsoft Office Professional comes with a powerful database application, Microsoft Access, which is ideal for performing these types of tasks. In fact, Microsoft provides owners of Access with an easy-to-use sample database that they can quickly customize to meet their business payroll needs.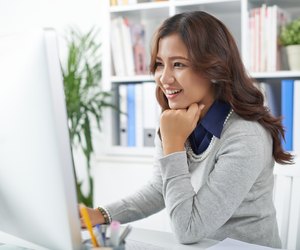 credit: DragonImages/iStock/Getty Images
Step
Launch Microsoft Access 2010 on your computer.
Step
Click "File" and then "New" on the menu ribbon bar. Click the "Time and Billing" sub-folder under the "Office.com Templates" heading.
Step
Wait for a list of thumbnail images to appear on the screen, and then click the "Time Card" image option.
Step
Enter a name for the new payroll database in the "File Name" field on the right side of the screen. Click the "Download" icon. Wait for the template to download from the Office.com website. Once the template downloads to your computer, it automatically opens in Access.
Step
Click the "Enable Content" button at the top of the screen if prompted to do so.
Step
Click the "Employee List" tab in the new payroll database. Enter name, email address and pay rate information for each employee in the data entry form.
Step
Click the "Work Hours List" tab. Enter information on date and times worked by each employee. Select an employee name from the drop-down list. Click the calendar button on the form to select the date worked and then enter start and end times for the employee's shift.
Step
Click the "Navigation Pane" on the left side of the screen to open it. Click and select one of the payroll reports listed to review amounts due to employees or summary totals for a specific time or pay period.