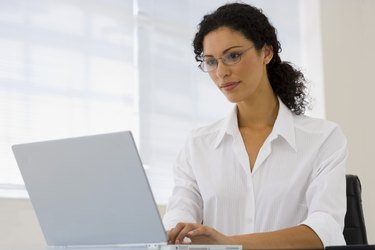 Creating a biography in PowerPoint is a good way of relating important information about a person's life, and using multimedia tools to help catch an audience's interest. It is not uncommon for high school teachers, or even college professors, to assign some sort of biography project when discussing someone in class. Depending on the specific criteria behind the biography, you can create something fairly basic, or get elaborate and creative.
Step 1
Create a title slide. This should introduce the person you're making the biography about. Usually, you type his/her name in the text box at the top of the screen, and either add a picture of quote below that. You will want to keep the title slide simple. If you're doing this for an assignment, put your name, class, and assignment number in one of the corners of the slide in a relatively small font.
Step 2
Create an introduction slide. This should be a general overview of the person's life. The default PowerPoint slide comes with two text boxes, so you can use the title text box to type "Introduction" or something similar, and the lower text box can be used to type your information.
Step 3
Create a timeline slide. Click on the default text boxes and press the "delete" key on your keyboard to get rid of them. Timelines can be done by using the table tool, located in the "Insert" menu at the top of the PowerPoint screen. The number of rows you need will depend on how many events you want to highlight. and you should have two columns, one for a brief description of the events, and one for dates. The table's size can be changed by moving the cursor on the table's border, and clicking and dragging.
Step 4
Create slides that highlight specific accomplishments. These slides are where you talk about the person's major accomplishments. Create a slide for each accomplishment you believe is important, and then provide a brief summary of that accomplishment, using the text boxes available.
Step 5
Create a conclusion slide. This slide will sum up the person's impact on the world or leave the audience with a quote from the person that symbolizes their overall persona.
Step 6
Create a references slide. This slide includes all the resources you quoted or used for the project. This adds credibility to the things you said during the presentation. See resources below for guidelines in a few of the major citation formats.