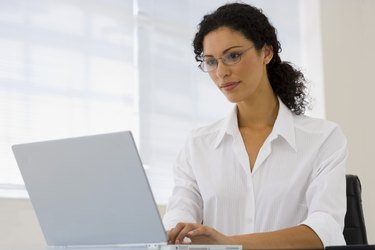 An e-mail address identifies your e-mail account and server on the Internet. By sending an e-mail to "your-address@your-domain-name.com," your friends, family, colleagues and business partners can send electronic mail over the Internet, which you can receive using an e-mail client or Web e-mail service. If you'd like to create your own customized e-mail address with your own domain name, you'll need to front around $10 to secure a domain name from a registrar. Using your e-mail, however, is absolutely free.
Step 1
Open your Web browser and navigate to the website of a domain name registrar, such as GoDaddy, Register.com or Network Solutions.
Step 2
Enter the domain name--the part of the address that comes after the @ symbol--of your choice into the search box on the website and click "Search" or "Submit." If your domain name is available, follow the step-by-step instructions to create an account and complete your purchase and register your domain name. Domain name registrations cost around $10 per year and can be registered for up to 10 years.
Step 3
Log into the domain name registrar's website using the account you created in Step 2.
Step 4
Click "Products" or "Services" from the home page once you're logged in. Choose "E-mail" and select the option to create a new account or e-mail address. Follow the instructions to create an e-mail address and select the domain name you registered as the domain that follows the "@" sign in your e-mail address.
Step 5
Bookmark the Web e-mail page on your domain name registrar's website. You now have a custom e-mail address with your own custom domain name. Be sure to tell your contacts about your new e-mail address.