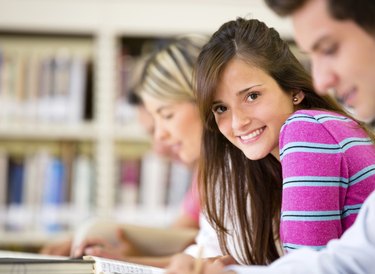 Beyond the standard word processing tools, Microsoft Word 2013 offers a number of features to make your written content more engaging and interactive. For educators, these tools can be valuable assets to make student handouts more captivating and appeal to different learning styles. Whether you want to hand out an introductory syllabus, provide study materials, create activities and information for students to view during a lesson or even design a small pop quiz, Word can help you create visually appealing and effective materials. You can also download free templates from Microsoft to facilitate formatting standard handouts like tests and syllabi.
Creating Handouts
Step 1
Open a new document in Word and write a simple title and the lesson's date at the top to help students with organization.
Step 2
Insert tables. Click on the "Insert" tab at the top of Word and select Table to include a table in your handout. Use tables to organize comparative and complementary information for easy studying or following along. You can also leave some table cells blank for students to fill in as a quiz or classroom activity.
Step 3
Insert Pictures. Click on the "Insert" tab and select "Pictures" to load a picture from your machine or "Online Pictures" to browse Microsoft's online collection of clip art. Use pictures to make the content more visual and engaging, but avoid high-resolution images that may not print well onto handouts.
Step 4
Insert Smart Art. Select Smart Art from the Insert tab and choose the format that fits your needs. Use organizational charts or pyramids to demonstrate hierarchy in concepts. Use cycle or process graphs to represent timelines or continual relationships.
Step 5
Insert charts. Select the type of chart you want from the Chart options in the Insert tab and customize axis titles and colors to fit your needs. Use bar and line charts for numerical data or pie or doughnut charts for qualitative relationships between your data.
Step 6
Conclude your handout with a list of suggested resources for further study or activities to do at home. Use the bullet icon at the top of Word to create a bulleted list.
Using Templates
Step 1
Click on the "File" tab at the top of word and select "New."
Step 2
Browse the templates in the introductory window or navigate through categories with the menu on the left. Microsoft provides a number of educator-friendly templates, including tests and syllabi formats. Alternatively, you can type what you're looking for into the search field at the top.
Step 3
Click on a template you like to view a preview and click on the "Create" button to load the template into a Word document.
Step 4
Fill in the placeholder or blank sections in the template with your own content. Once the template is loaded in Word, you can edit it just as you would your own Word document. Add or remove sections in the template as needed.
Step 5
Save the new document with a new name. Word automatically loads the document with a default template file name.