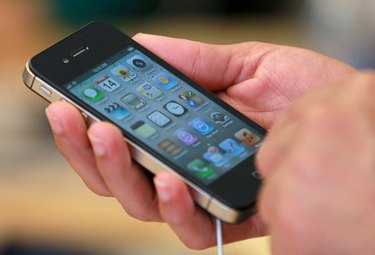 Have you ever downloaded an application to your iPhone and thought it was everything you needed, only to discover it was not what you expected at all? Not to worry -- you're not stuck with a needless application and its related icon wasting space and memory on your iPhone. Deleting an application and its icon from your iPhone takes little time and can be done with just a few taps on the screen.
Deleting iPhone applications
Step 1
Press the "Home" button on the bottom of the iPhone to wake it from sleep mode, and unlock it by sliding the arrow at the bottom of the screen from left to right to delete applications and their icons.
Step 2
Place your finger on the icon of any application and hold it in place for a few seconds, until all applications start to shake on the screen. Any applications that can be deleted will display an "x" at the top left corner.
Step 3
Tap the "x" on the top left corner of the icon of the application you wish to delete. You will be asked to confirm the deletion and then to rate the application. (Rating the application is not mandatory.)
Step 4
Press the home button to take iPhone out of delete mode once you have removed all unwanted applications and their related icons.