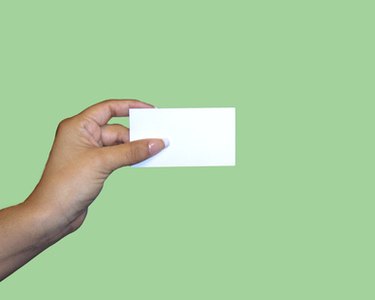 If you're used to putting the Microsoft Excel spreadsheet software to work for you to calculate figures, charts and finances, don't rule out the program for other uses, such as making publications. Excel offers the same kind of functionality as its other Office Suite partners for creating and designing materials such as business cards. Use Excel to make custom cards to give your contact details to potential new customers and clients.
Step 1
Open Excel, which automatically defaults a new, blank spreadsheet on the screen. Click the "Insert" tab at the top of the screen.
Step 2
Click the "Text Box" button on the toolbar/ribbon at the top of the screen. Hover your cursor over the spreadsheet and notice it changes to an upside down cross.
Step 3
Press and hold down the left mouse button and drag the cursor to form a rectangle on the screen; the size doesn't matter at this point. Right-click the rectangle and select "Format Shape."
Step 4
Click the "Size" option in the left side column on the "Format Shape" window. Type "3.5" into the "Height" box and "2" into the "Width" box.
Step 5
Click the "Fill" button and click the "Color" menu. Click one of the small colored squares to give your business card a background color. Skip this step to keep the background color white. Click the "Close" button to close the "Format Shape" window and return to the business card.
Step 6
Click inside the business card box and type your name, title, company, address, phone number and other information such as email address, website and hours of business operation.
Step 7
Highlight the text, click the "Home" tab at the top of the screen and use the "Font" section of the toolbar/ribbon to change the text font, size and color.
Step 8
If you'd like to include a digital logo image, click the "Insert" tab at the top of the screen. Click the "Picture" button directly below it. Browse to your logo and double-click the file name. The logo appears on the spreadsheet. Press and hold down the "Shift" button on the keyboard, grab a corner of the logo and shrink it down to size, then drag it onto the business card.
Step 9
Click the "File" tab, click "Save As," type a name for the business card file and save it to your computer.