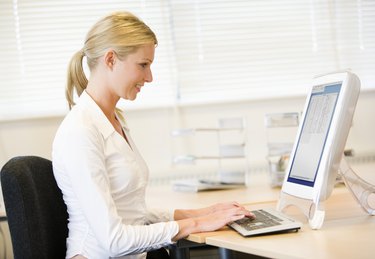 Sound Blaster is a line of audio card products produced by Creative Labs. They are common in Windows-based machines like Dell, HP and Gateway computers. A computer's sound card is responsible for the input and output of audio signals; higher quality sound cards can result in crisper, more realistic sounds and better sound recording. Detecting the type of sound card you have installed can help you update or troubleshoot the device.
Check Audio Devices
Step 1
Click "Start," right click "Computer" and click "Manage."
Step 2
Click "Device Manager" and double click on "Sound, video and game controllers."
Step 3
Right-click on your Sound Blaster device and click "Properties." General information about the card will be listed here.
Step 4
Click the "Driver" tab and click "Update Driver" to have your system attempt to install updated drivers for the card.
Check Sound Devices with Dxdiag
Step 1
Click "Start," type "Dxdiag" into the search field and press "Enter."
Step 2
Click on the "Sound" tabs (Sound 1, Sound 2, etc.) to view information about each of your audio devices.
Step 3
Click the "Save all information" and then click "Save" to save a text file copy of your system information.
Tip
Creative may release new driver updates for your Sound Blaster device from time to time. Search for the latest driver updates on Creative's Sound Blaster Support website (see Resources).