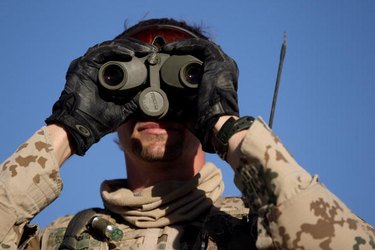 Night vision equipment, such as binoculars, cameras and monoculars, operate by converting ambient light photons into electrons which can be amplified through a chemical and electrical process then converted into visible light. Infrared is sometimes used in night vision devices when there is insufficient visible light to see. Infrared augments any available ambient light by increasing in-the-dark visibility without any visible light source. Active-infrared night vision utilizes wavelengths that are invisible to the human eye, so detecting a user of night vision is currently impossible without the aid of a light source, counter-surveillance equipment and basic knowledge of night vision devices.
Step 1
Perform a "sweep" of your home, office, car or any desired area with a counter-surveillance radio frequency (RF) detector. To conduct a sweep, simply inspect the area thoroughly for suspicious activities and slowly wave the RF detector around the desired location. The RF detector can be purchased online or at any security equipment vendor. Infrared devices, such as night vision cameras, emit radio waves that can be detected by a standard radio-frequency detector.
Step 2
Purchase surveillance equipment that allows you to detect anyone that enters the area you've swept. This would include surveillance cameras and motion detectors. Mount the equipment according to the manufacturer's instruction in the desired location to accurately monitor any suspicious activity. Unfortunately, even with high-level security, you may not be able to prevent infrared cameras from entering your domicile. Many infrared video cameras detect movement from over 1,200 feet away.
Step 3
Look for traces of night vision devices and their users. To do so, use a flashlight to prowl and sweep the desired area. You can even purchase a thermal imaging device to locate users of night vision in the dark. Thermal imaging can detect radiation in the electromagnetic spectrum and produce images of that radiation. This equipment can be purchased online or at any security equipment vendor. Once purchased, follow the manufacturer's instructions to effectively operate the equipment and conduct thorough searches for hidden users of night vision at night.
Step 4
Acquaint yourself with the most common night vision devices so you can recognize them upon detection. Most night vision devices are binoculars featuring three to five times optical magnification and two carefully calibrated generation-one image-intensifier tubes. These binoculars are usually multicoated, all-glass lenses. Night vision monoculars are available in various body colors and textures, and they feature various degrees of weather proofing. They are portable and easy to use, equipped with a built-in infrared illuminator. Infrared illuminators are powerful accessories that can increase the range, image quality and brightness of any night vision device. They are easily mountable and use various battery types depending on the user's specific need.