Touchpads are fairly standard equipment on laptops these days, in lieu of the older "eraser-head" track buttons. Because laptops are typically not used in locations that are conducive to using a full-size mouse, touchpads are used instead to allow the user to move the mouse pointer with a finger. Occasionally however, you may find yourself wanting to disable the touchpad—perhaps while you are typing so that accidentally brushing the touchpad does not reposition the typing cursor. Somewhat ironically, in order to disable an ASUS laptop's touchpad, you first need to fully enable the touchpad's software by installing the correct drivers onto your computer.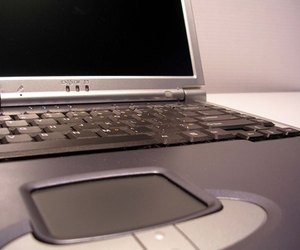 Installing the Touchpad Drivers
Step
Open your preferred Web browser and navigate to the ASUS driver download page.
Step
Select the product, series and model of your laptop using the drop-down menus on the ASUS website and click the "Search" button.
Step
Select your laptop's operating system and expand the "Touchpad" category in the new page.
Step
Click the "Global" option. This will bring up a "Download" dialog box on your screen. Save the driver install file to your hard drive. Launch it when the file has finished downloading.
Step
Follow the instructions to begin the automated driver installation program. You may need to restart your computer to complete the installation.
Disabling the Touchpad
Step
Click the "Start" button and launch the control panel from the start menu.
Step
Click "Mouse" in the control panel window to open a new dialog box.
Step
Click the "Device Settings" tab.
Step
Select the touchpad in the list of installed devices and click the "Disable" button. This will disable the touchpad.