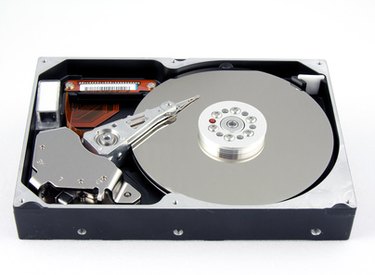 The paging executive setting in Windows is used to load system files such as the kernel and hardware drivers to the page file when needed. These sets of system files are called executive files. Windows will generally try to keep the executive files in your memory, but if you are running low on memory resources, the executive files may load into the paging file. This can possibly lower the overall performance of the computer. Disabling the paging executive will force the executive files to run in memory regardless of the current usage. You can disable the paging executive through the Windows registry.
Step 1
Press the "Windows" and "R" keys simultaneously on your keyboard to load a "Run" box.
Step 2
Type "Regedit" (without quotes) and press "Enter." This loads the "Windows Registry Editor."
Step 3
Press "Ctrl + F". This loads a "Find" box.
Step 4
Type "DisablePagingExecutive" (without quotes) and press the "Find Next" button. Allow a few seconds for your computer to search through the registry. Once the computer finds "DisablePagingExecutive," the "Find" box will disappear and "DisablePagingExecutive" will be highlighted on the right pane.
Step 5
Right-click "DisablePagingExecutive" on the right pane, then click "Modify."
Step 6
Change the value from "0" to "1" and press "OK." Restart your computer to save changes.
Tip
Change the value back to "0" if you notice a decrease in performance.