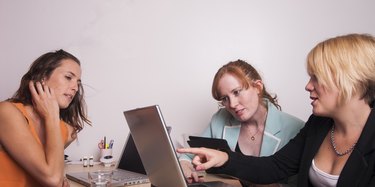 Symantec Enterprise Vault is designed to run in the background and should normally be configured to archive user mailboxes on a network during off-hours. A network administrator can disable Enterprise Vault tasks from the server whenever it's needed, like during network maintenance. If you need to use your computer when archiving is scheduled and don't want it to slow you down, you may be able to suspend archiving from Outlook. This will only affect archiving of your own mailboxes and is only available if it has been set up by your network administrator.
Suspending Archiving From Outlook
Step 1
Launch Microsoft Outlook on your computer. Right-click your mailbox in the Outlook Navigation pane and select "Data File Properties" from the drop-down menu. This opens the Mailbox Properties window.
Step 2
Click the "Enterprise Vault" tab, then select "Change." The Enterprise Vault Change Properties dialog box opens.
Step 3
Click the "Suspend Enterprise Vault Archiving for This Mailbox" check box to select this option. Click "OK" to close the dialog box.
Step 4
Click "OK" or "Apply" to close the Mailbox Properties window. When you want Enterprise Vault to resume archiving your mailbox, go back and click the same check box to clear the Suspend option.
Disabling Archiving From the Server
Step 1
Log in to the server hosting your Symantec Enterprise Vault software using your administrator username and password. Launch the Symantec Administration Console.
Step 2
Expand the "Enterprise Vault Servers" item in the left menu by clicking its "+" button. A nested list of computer names appears below it.
Step 3
Expand the computer name that is running the task you want to stop. If you want to disable all Exchange Mailbox tasks, expand the computer name that runs that task by clicking its "+" button.
Step 4
Select the "Tasks" item nested below the computer name.
Step 5
Select the task you want to disable in the right menu, such as "Mailbox Archiving Task." Click the "Tools" menu and select "Disable Mailboxes." For other tasks, like the "Exchange Provisioning Task," select "Stop" from the Tools menu. You can enable the task again later using this same process and selecting "Start" from the Tools menu.