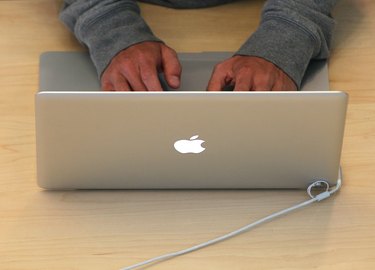 If mirroring is enabled by default in your MacBook's Mac OS X settings, when you connect an external monitor to your MacBook it automatically displays the exact image that is on the MacBook's screen. This is a problem if you want to extend the MacBook's desktop to an external display to increase your overall screen real estate. Fortunately, the option to disable mirroring on your MacBook is conveniently located in the Display preferences of Mac OS X.
Step 1
Connect the external monitor to your MacBook using the appropriate cable. For example, If both the MacBook and the external monitor have VGA ports, use a VGA cable to connect the two devices.
Step 2
Click the "Apple" icon in the upper left corner of the desktop and then select "System Preferences" from the drop-down menu.
Step 3
Click "Displays" in the Hardware section and then click the "Arrangement" tab.
Step 4
De-select the "Mirror Displays" check box in the bottom left corner of the window.