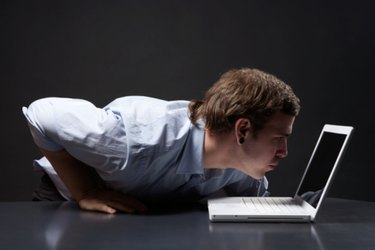 Many laptops are equipped with a VGA or DVI output jack. If your laptop has one of these video-out ports, you can display your laptop's screen on a monitor. The monitor can duplicate your laptop's screen, or you can stretch the desktop across each monitor for an even larger workspace. Monitor auto-detection and multi-monitor options built into the Windows 7 interface make it possible for even novice users to display laptop screens on an external monitor.
Basic Duplicate Screen Display
Step 2
Plug a VGA or DVI cable into your monitor.
Step 3
Plug the other end of the cable into your laptop.
Step 4
Plug in and turn on the monitor. When your laptop detects the active VGA or DVI cable, it begins to display a duplicate screen image onto the monitor by default. If you want to duplicate the same display over each screen, your work is done. If you want further control over the laptop display, you can adjust the dual monitor settings.
Changing Your Dual Monitor Settings
Step 1
Click on the Windows "Start" button.
Step 2
Click "Control Panel." The "Control Panel" pops open in a new window.
Step 3
Click "Adjust Screen Resolution," located underneath the "Appearance and Personalization" heading.
Step 4
Click on the drop-down box next to the "Multiple Displays" setting.
Step 5
Choose your desired display option from the list and click "OK" to save the settings. The laptop's screen is called "Monitor 1," and the external monitor is considered "Monitor 2." You can choose to display your computer's desktop on "Monitor 1," "Monitor 2," "Duplicate" the display on each screen, or "Extend" the desktop over both monitors simultaneously.