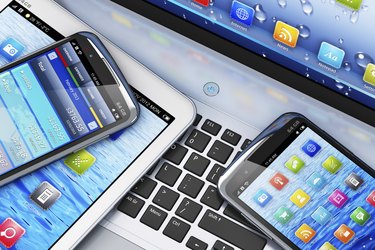 You can use your Android Web browser or Facebook app to download photos from Facebook directly to your device. Once you have downloaded the photos you want from your Facebook account, they can be accessed from your device's Gallery app. There you can send your photos via text or email, assign photos to your contacts or set a photo as your background or lock screen.
Using Your Browser
Navigate to Facebook using your device's browser, then locate a photo that you want to download. Tap the "View Full Size" button beneath the photo to open it in a new browser menu, press the "Menu" button on your device and select "Save File As" to save the photo to your gallery. If you are using a device running KitKat, you may also long tap on the image, then select "Save File As."
Using the Facebook App
Photos can also be accessed through the Facebook app. A photo can be saved by tapping the photo to view it in full screen mode, pressing the "Menu" button, which is shaped like three vertical dots, and selecting "Save Photo."