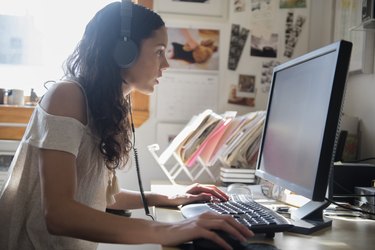 The dramatic rise of podcast popularity in recent years has often been attributed to the iPhone, iTunes and the Apple Podcasts app making it easy for listeners to find and subscribe to programs. However, despite programming becoming optimized for mobile listening, you don't need an Android or iOS device to listen to your favorite podcasts. On the contrary, it can often be easier to follow and download podcasts by using a computer instead of a phone or tablet: you can easily download a podcast from a website directly, or use any number of dedicated podcast manager programs. It may not be as simple as tapping three times on a touch screen, but it's still easy!
Simple Podcast Format
Part of what makes podcasts so accessible to listeners – and so simple to produce – is the basic format. At their core, no matter how much work has gone into recording and editing the episode, any given podcast episode is nothing more than a standalone audio file. So long as you can access the audio file containing the episode, you can listen in: there are various channels available to publish and subscribe to podcasts, but these are all just delivery methods for the MP3 files nearly all podcast episodes are released as. Because podcast audio files are compatible with any music player or audio app on any operating system or device type, listeners have hundreds of options available to help them consume their favorite shows – especially on a computer.
Direct Download Options
The most direct method available to download podcasts to a PC is to obtain the audio files straight from the source: this is done by downloading files from the podcast's hosting website. Whether the program is hosted on its own dedicated site, published through a hosting service like Libsyn, or distributed through a SoundCloud account, downloading episodes is a simple process. Once you've navigated to the show's website, browse the list of episodes until you find one you wish to download. While the method will differ based on the way the podcast's website is arranged, you will then be able to select a link or button labeled "Direct Download" or "Download This Episode." Once the download is complete, you will be able to listen to the episode like you would any other audio file.
Using Podcast Manager Programs
Downloading podcasts directly is a simple way to access your favorite programs, but it leaves everything to you. If you want to follow a podcast, you'll have to remember to visit the show's website and download a new file manually every time an episode is released – which can become tedious if you follow multiple podcasts, and frustrating if those podcasts follow wildly different or irregular release schedules. To make things easier, you can use any number of podcast manager programs to simplify your listening experience. The most popular of these is iTunes, where you can browse, subscribe to, and download podcasts as you would on an iPhone, but hundreds of "podcatcher" programs like gPodder and AntennaPod exist. You can also use audio players like VLC. Many of these programs require you to link them to a podcast's RSS feed: these are specialized links provided by the podcasters themselves. Paste the RSS feed link into your podcast manager, and after selecting the "Add" option the program will show you the list of available episodes, updated as new episodes are released. You will then be able to listen within the program.