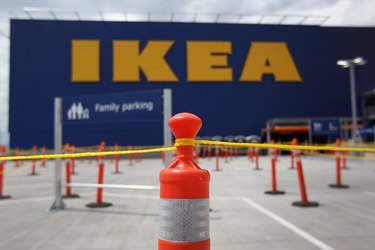 The Ikea website has multiple online design tools to help you plan your next renovation. While most open easily in a Web browser, the Kitchen Planner requires a special browser plug-in for both Mac and Windows users. If your Apple computer meets the minimum system requirements, you'll be able to download the plug-in, install it and start using the planner. The process is similar to installing other plug-ins on your Apple computer.
Step 1
Launch Safari or Firefox on your Mac. Navigate to the IKEA Planner Tools download page (see Resources).
Step 2
Click on the Start Now link in the Kitchen Planner section of the IKEA downloads page. When the IKEA Home Planner welcome page opens, activate the Software Licence Agreement check box and click on the Install Player button.
Step 3
Double-click 2020PluginInstaller.dmg in the Download folder, then go to the new "2020PluginInstaller" window. Drag the Lego block on the left side of the screen to the folder on the right side. If prompted, authenticate the plug-in, then close this window.
Step 4
Press Cmd-Q to quit your browser. Relaunch it from your Dock, Applications folder or the Recent Items section of the Apple menu.
Step 5
Scroll down to the Kitchen Planner and select Start now. In the new window, click Start to launch the planner.