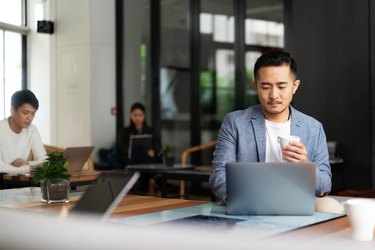 Being able to save streaming video for later viewing is a convenient feature when you don't always have an internet connection. If you're running a Mac computer, the video downloader in the Safari browser provides this capability. There are also third-party apps like Video Grabber that help you download video files to an Apple computer or mobile device.
Download Video from a Website with Safari
When you're viewing a web page in Safari on an Apple Mac computer, you can click on the link to any downloadable content to begin the download process. For items on the page without links, use Control-click on the item and then select Download Linked File. You can view a list of saved videos and other files by clicking on the Show Downloads button located at the upper right of the browser window (note that the Show Downloads button is only visible if files have been downloaded).
When Show Downloads is clicked, the Downloads panel is displayed with a list of files that have been downloaded or are in the process of being downloaded. You can stop or pause a download in process by clicking on the Stop button displayed to the right of the file name. The Search button next to each file name in the list can be used to locate the physical storage location of the downloaded file on the computer.
Using Video Grabber
Video Grabber is a video download helper that claims to simplify video downloading on Mac computers. The web-based application is available at videograbber.net, where you can paste or type in the link to a video and press a button to begin downloading the video file to your computer. The link must be from a supported site and the video must be unprotected by encryption. There is also a premium version of the application that supports more sites and downloads encrypted videos.
Downloading to an iPhone or iPad
Although Safari is the default browser for the iPhone and iPad, there is no direct way to download videos on Apple mobile devices. Instead, there are apps that support video downloading, such as Documents by Readdle. The app's built-in web browser allows you to download videos to an internal storage area. You can view them from that location or move the video files to your camera roll so they can be accessed like other videos on your device.
Downloading Videos Safely and Legally
Most of the content available online for download is in the public domain, which means you can watch it for free. Video on websites like YouTube and Hulu are in the public domain and can be watched without piracy issues, but you may need to subscribe in order to download content. Sources for free downloadable videos without a subscription include iTunes, Google Play, Vimeo and the Amazon Prime Video Store.
Besides copyright issues, it's important to be aware of the possibility of inadvertently downloading malware to your phone or computer when you save an online video. Research websites that offer free video downloads and only use those that are reputable. It's also a good idea to run virus scanning software on downloaded files before opening them, or in the case of video files, viewing them.