Being unable to download your favorite movies and TV shows is quite frustrating, as you cannot watch them without an Internet connection. In this regard, Safari has provided a great advantage to its users. Safari offers a small tool known as Activity window that you can use for downloading practically anything from the web, including videos and movies from streaming websites such as Youtube, My Space, Megavideo and others.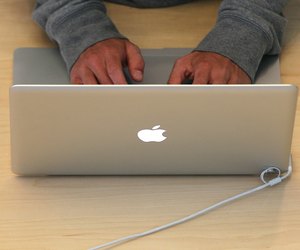 credit: Justin Sullivan/Getty Images News/Getty Images
Step
Open the streaming video you want to download, perhaps a TV show episode from Megavideo.
Step
Play the video.
Step
Press these buttons simultaneously: "Command" + "Option" + "A." Or, go to "Window" from the top menu and click on "Activity."
Step
Find the video activity. If you have more than one tab or window opened at the moment, it will show all the activities, including the Megavideo activity. Click the arrow next to "Megavideo," and it will show you a long list of files. From this list, find the largest file. Almost all the files will be either in bytes or kilobytes, except one, which will perhaps be in megabytes. The largest file is the video file you're looking to download.
Step
Double-click the largest file, which will now start downloading. Depending on the size of file and your Internet speed, it may take several minutes to complete the download.
Step
Go to the "Downloads" folder from the dock. You can rename the file if you want. The file extension is .flv. You can now play it in VLC player or QuickTime.