Since the mid-1990s, American Express has collaborated with Intuit, maker of Quicken personal financial management software for Windows and Mac, to offer consumers the convenience of online statements and transaction downloads. Downloading your American Express account transactions into Quicken is a fast way to keep accurate financial records. When you keep track of your expenses you can budget and save for the future more effectively and easily reconcile your account. Reconciling your account each month also helps keep you from inadvertently going over the spending limit on your credit card.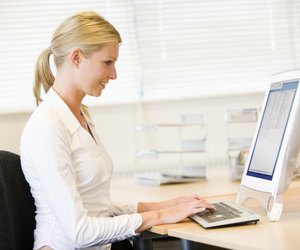 credit: BananaStock/BananaStock/Getty Images
Step
Go to the American Express website and log on to your account.
Step
Choose either "View Recent Activity" or "View Online Statement" from the Manage Your Account menu.
Step
Click the "Download" button near the upper right hand corner of the screen. The Download Transaction Activity dialog opens.
Step
Click on the radio button (circle) labeled "Select this option to download transactions into Quicken …" and then click the "Continue" button. The "Download Card Activity" page opens.
Step
Select the date range for the transactions you want to download.
Step
Click the "Download Now" button. The download begins automatically.
Step
Double-click on the downloaded file. The file is in your downloads folder; it has a .qfx file extension. Quicken opens automatically and imports the transaction data.