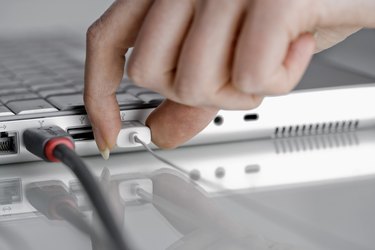 Every Mac is preinstalled with the most modern version of iMovie HD when you buy it. This movie editing software for the Mac works wonderfully for importing movies from a camcorder like a Canon. Modern versions of iMovie support many Canon camcorders, and iMovie makes it simple to import and download the content of the Canon movie into your Mac.
Step 1
Turn on your Canon camcorder, with the movie you want to put on your Mac computer inside of it. Plug the USB or FireWire cable into your Canon camcorder and your Mac.
Step 2
Turn on iMovie on your Mac computer. It is in the Dock or Applications folder. Select "New Project" from the "File" menu.
Step 3
Click on the "Camera" icon and select "Capture." This will download the movie from your Canon camera to your Mac.
Step 4
Click "Save Project" in the "File" menu when the download is complete.