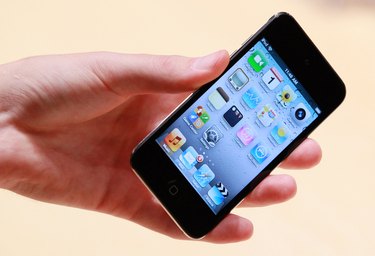 You can synchronize content from your iTunes library on your computer to your iPhone. This means that anything you download in iTunes will be synched to your iPhone when you connect to your computer. If you download videos or other files directly on your iPhone from iTunes, you can also transfer those files back to your iTunes authorized computer. This process will allow you to keep a fully updated library in both your iTunes directory and your iPhone so you can access your files from either your phone or your computer.
Step 1
Connect your USB cable to your iPhone's USB adapter. Plug the other end of the USB cable into an open USB port on your computer. Be sure that both ends are securely connected in the ports. You can leave your iPhone powered on during this process so that iTunes can communicate with it.
Step 2
Wait for iTunes to launch when your phone is recognized by your computer. Click "Yes" when the dialog box appears asking if you want to download purchased content to your iTunes library. If iTunes does not automatically launch or this box does not appear, launch iTunes and click the "File" menu. Select "Transfer Purchases" in the iTunes File menu.
Step 3
Locate the purchased video files you want to transfer to your computer from your iPhone and highlight them. Click "Transfer" to download the video files from your iPhone to your iTunes library on your computer.
Step 4
Disconnect the USB cable from your computer and then disconnect the USB cable from your phone once the transfer process is complete.
Warning
Video files which are not properly formatted for the iPhone will not be transferred during this process. If your file is not properly formatted, conversion options are available.