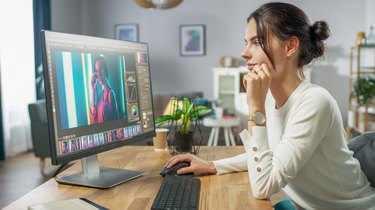 A variety of image file formats are available today which allow individuals to create and share media content at the touch of a button. Many of these file formats differ from one another based on the type of compression that is used when the image file is created. This compression allows images to retain a smaller data footprint at the expense of some image quality. A JPEG image file is a compressed graphic data format which allows for easy creation, editing and distribution. Understanding how to edit JPG files is a relatively straightforward process that can be accomplished without extensive prior knowledge or experience.
Exploring JPG Basics
The acronym 'JPG' and 'JPEG' are often used interchangeably, although the common file extension used is, indeed, ".jpg". Both terms are acronyms for 'Joint Photographic Experts Group,' a consortium who first codified what exactly the file format would become. As mentioned previously, JPG files do use compression in order to ensure that file sizes remain manageable. The .JPG file extension, alongside the .TIF and .PNG extensions, have become the most common image file formats used today.
Generally speaking, .JPG files can be opened and edited in virtually all image processing software applications in use today. There are no platform restrictions related to .JPG files. Whether you are using a Windows or Apple operating system, you should be able to quickly open and edit any JPG files in your possession.
As mentioned previously, JPG files rely on compression in order to properly manage file sizes. Because of this, these files are said to be 'lossy', meaning that some degradation of image quality will result following the JPG encoding process. The specific amount of degradation is ultimately determined by the specific amount of compression used. In contrast, 'lossless' file formats are those in which the compression algorithms used do not result in reduced image quality.
Editing a JPG File
If you are ready to begin editing JPG files, you will first need to ensure that you have access to a photo or image editing software program. If you do not already have access to a JPG editor, you may consider downloading the free-for-use GNU Image Manipulation Program, also referred to as GIMP. This program features virtually all of the same features as more expensive packages such as Adobe Photoshop. Google Drive also includes its own image manipulation program, Google Drawings. Keep in mind, however, that the functionality of this program is significantly limited relatively to GIMP.
After obtaining your desired program, you will need to import the image directly into your workspace. You can do so using the 'Import' or similarly worded command. Once the image has been imported, virtually all of the editing tools available in your software program will become available to you. This includes color and contrast adjustments, sizing corrections, drawing options and more. Your editing capabilities will only be limited by the capacity of the program itself.
Finishing Your File
Once you have completed the necessary changes in your JPG file, you will need to save and export the image once again. Keep in mind that JPG files will continue to lose image quality as they are re-compressed. If you have the ability to tailor your compression settings, you should use as little compression as possible when exporting changes to a JPG file. This will ensure that you maintain the quality of the first image as much as your software allows.