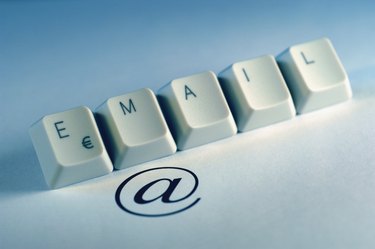 The "Favorites" or "Bookmarks" menu in your web browser is a great way to organize websites for quick future reference. If you want to send your bookmarks to someone or you want to email it to another computer you use, the process is quick and easy. With the export options available in the Internet browser, you can create a file of your bookmarks that can be easily attached to an email.
Internet Explorer Favorites
Step 1
Launch your Internet Explorer web browser. Click the "Favorites" button in your Internet Explorer window. Click the arrow beside the "Add to Favorites" button. Click "Import and Export" to launch the Export wizard.
Step 2
Click "Export to a File" in the "Import/Export Settings" dialog box. Click the "Next" button. Click the check box beside "Favorites" to specify that you want to export your internet browser favorites and click the "Next" button.
Step 3
Select the folder you want your Favorites exported from and click "Next." You can opt to export only a portion of your browser favorites, or the entire menu. Specify the location to save the file, enter the file name as you want it to be saved, click "Export" and then click "Finish."
Mozilla Firefox Bookmarks
Step 1
Launch your Firefox web browser. Click the "Bookmarks" menu at the top of the Firefox application panel.
Step 2
Select "Organize Bookmarks" in the "Bookmarks" menu. This will open your Bookmarks Library to allow you to manage your bookmark files.
Step 3
Click the "Import and Backup" button at the top of the menu bar. Select "Export HTML" from the drop-down menu. Choose the file path where you want your bookmarks file to be saved and assign the file a name. Click "Save" to save the file.
Emailing the Bookmark File
Step 1
Launch your email application or log in to your web-based email account and create a new email message.
Step 2
Address the message to the intended recipient and include any necessary information to explain the file attachment.
Step 3
Attach the bookmarks file you created, using the attachment process provided by your email application. If you use Microsoft Outlook, you can click the paperclip that appears in the new message window. Many other applications offer an "Attach File" option or similar alternative.