You can't delete individual conversations in Skype 7 for Windows without editing the SQL database file using a third-party tool. You can, however, delete individual messages after you send them; you have 60 minutes to delete sent messages. To delete conversations in Skype for Windows, you must delete the entire conversation history and remove all conversations. You can also prevent Skype from saving conversations or select when the program should erase them automatically.
Step 1
Launch Skype, log in to your Skype account, click Tools and select Options from the menu to display the Skype Options window.
Step 2
Select the Privacy tab and then the Privacy Settings sub-tab to view all settings related to your privacy. Click the Clear History button in the Keep History For section to display the Delete History dialog.
Step 3
Click the Delete button to delete the entire conversation history. All data -- including instant messages, SMS messages, calls and voice messages -- is erased immediately.
Step 4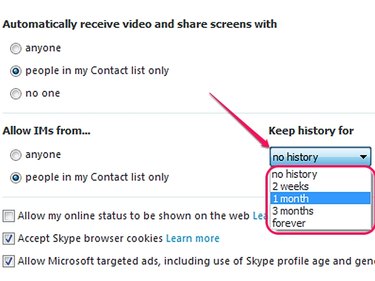 Optionally, prevent Skype from saving your conversations by selecting No History from the drop-down box in the Keep History For section. You can configure Skype to automatically delete conversations after some time by selecting a different option from the box.
Step 5
Click Save to save and apply the new settings.
If you wish to reset all Skype settings to their default values, you can do so by clicking the Reset to Defaults button.
Tip
You can delete individual conversations by using a database browser such as DB Browser for SQLite. The conversations are stored in the "main.db" file. To find the file, press "Windows-R", type "%appdata%", press "Enter" and then open the "Skype" folder. Open your Skype username folder and locate the main.db file.
Open the "main.db" file in a database browser and select the "Conversations" table. Each conversation is displayed on a separate line; delete database records from the Conversations table to delete specific conversations.
To delete a message after you send it, right-click it and select "Remove Message" from the context menu. You can edit the message by selecting "Edit Message" from the menu.
Warning
Caution: Recovering deleted conversations is impossible in most cases.