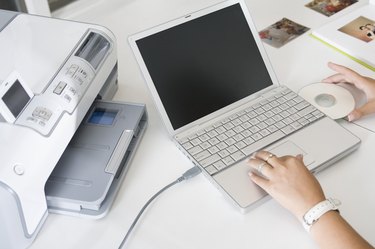 ZIP files are archive-style containers, in which numerous different files are compressed and stored, sometimes in several parts. In order to view the actual data files contained within in a ZIP file, the ZIP file must be unzipped so that the individual files can be opened. WinZip is a free program that will extract all of the individual files from a multi-part ZIP file and allow you to save them into a folder on your computer where they can be viewed.
Step 1
Save the ZIP file email attachment or the ZIP file that was downloaded online to your hard drive. Select a location where the file will be easy to find, such as the desktop.
Step 2
Download and install WinZip to your computer. You can find a link to the program below in "Resources." WinZip can open any zipped file, including multi-part files. To install WinZip, simply double-click the program's setup icon and follow the on-screen instructions.
Step 3
Go to the "Start" menu on your computer, click on "All Programs" and scroll to the "WinZip" folder. Click the "WinZip" folder name and then click the "WinZip" application to open the program.
Step 4
Click the "Open" button on WinZip's toolbar and navigate to the ZIP file on your hard drive in the window that comes up.
Step 5
Double-click the file name to import the ZIP file into WinZip. The ZIP folder will appear in the left "Folders" pane and individual folders included in the ZIP folder will appear in the right WinZip pane.
Step 6
Select the folder in the right pane that you want to extract the files from and press the "Extract" button on the WinZip toolbar. When the "Extract" window come up, choose a folder on your hard drive where you would like for the extracted files to be saved and click "Extract."
Step 7
Extract all of the files from a multi-part ZIP file at one time by choosing the "Entire archive" option at the bottom of the "Extract" screen before clicking the "Extract" button. Each individual file included in the ZIP file will save into the folder you have selected on your hard drive.