Portable Document Format, or PDF, is a type of file designed for sharing among many users. While a document created in a word processing program may look different from one computer to another, a PDF document embeds fonts and images, maintaining the formatting regardless of where it's opened. PDFs can also be interactive, allowing a document's creator to insert form fields a recipient may fill in and then email back. If you receive such a form, there are a couple of things you'll need to know.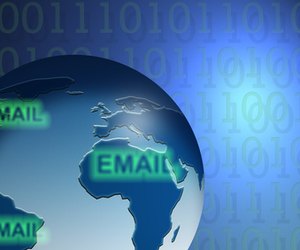 Save the attached PDF to your computer. The way you do this will vary a little depending on what email program you use, but generally there is a "download" button near the attachment in your email.
Step
Open the PDF. If your computer can't find a program to open the PDF, you'll need to download a free PDF reader. While Acrobat Reader is the most common, there are a few options. See Resources for examples. Once the program is installed, open the PDF.
Step
Check to see whether the PDF is an interactive form or flat form. An interactive form will usually have a menu bar pop up at the top of your screen with the message "This document contains interactive form fields." Clicking the "Highlight fields" box in that same box will highlight all fillable fields in the document. Click on a highlighted field; your cursor will change appearance and you can either type into a field or select a button or drop-down menu, depending on the type of field. Pressing "Tab" will move the cursor from field to field. A flat form doesn't contain interactive fields. If you have the full version of Adobe Acrobat you can fill out the form using the Typewriter tool, which simply types text anywhere you insert the cursor. However Acrobat is a paid program and not something everyone has access to. An alternative is an online service, such as PDFescape, that lets you upload the form, fill it in and save it.
Step
Save the filled-out PDF on your computer. You'll want to save it in a location you can find it easily--when you downloaded the PDF it may have saved into your computer's default "download" folder, and if you're not sure where this you may have trouble finding it. Save the PDF to your desktop or your "documents" folder to make things simple.
Step
Open your email program. Compose a new email to the sender, or simply "Reply." Attach the filled-out PDF to your email and hit "Send."