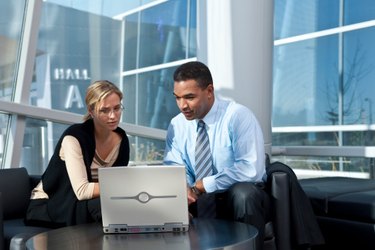 A great way to add visual appeal to your Adobe InDesign document is to add leaders. Leaders are the sets of dots or dashes that fill the tab space between text. For example, you might use leaders between the page number and its corresponding title in a table of contents, or between a name and its corresponding role in a wedding program. Creating leaders in Adobe InDesign is a simple process that involves toggling settings in the Tabs field.
Step 1
Select "Tabs" in the Type drop-down menu.
Step 2
Using the ruler, choose your preferred tab stop.
Step 3
In the box marked "Leader," type the character you would like to appear in your leader (for example, a period or a dash).
Step 4
Clear any text inside the box labeled "X." Close the window.
Step 5
With your cursor inside a text box, press the tab key to test your work. Your leaders should appear.
Tip
The ruler in your tabs window might appear too small for your needs at first glance. If you drag the bottom right-hand corner to the right, your window will expand.
If you make a mistake and need to start over, you can press the arrow in the top right corner of the tabs window and select "Clear All."