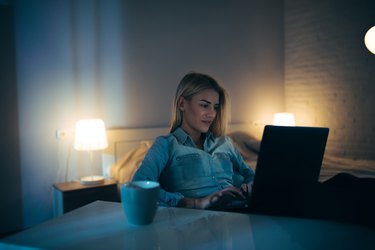 When you want to find out who lives on your street, a few digital tools can help. Reverse lookup directories let you search for phone listings by a specific address, and tools like the White Pages Neighbors site are ideal for searching for a specific neighborhood's residents. Social media tools like the Nextdoor app also help you connect with your neighbors.
Find My Neighbors Online
To find a list of people who live in your community, use the Neighbors tool from Whitepages.com. It allows you to search for people who live in the vicinity of a specified address using phone and public records.
Do a reverse lookup for a particular address using Whitepages.com or another online reverse lookup directory such as Anywho. Printed reverse lookup directories, similar to traditional phone books but organized by address or phone number rather than name, are still available in public libraries in some areas.
Land Records
Public records reveal who's associated with houses in a community. To find out who owns a specific plot of land, look to your city or county land records office. Land records are usually available to inspect in person, and they're often available to search online as well, though you may need to pay a fee for the service.
If houses in your neighborhood have changed hands recently, use a real estate search engine like Zillow to find out who owns them.
Search Engines and Social Media
To learn more about an address, search for it on a search engine such as Google or Bing. If someone has listed the address in an online resume or a business profile or if the address has been featured in the news media for any reason, you'll find out.
Social media posts on sites like Facebook, Twitter or LinkedIn are a treasure trove of information. Search on an address, and you might find a clue as to who lives there along with a social media handle where that person can be reached.
Geographical Social Media
Sometimes the best way to reach out to your neighbors is on geographically focused social media. The Nextdoor app and website are designed to connect neighbors so they can discuss local issues. Enter your address, and Nextdoor searches for a community group near you.
Other sites, including Foursquare's Swarm and the Yelp app, let people check in at locations, post reviews and discuss community concerns. These provide a way to see who's visiting the places in your neighborhood that you frequent.
You can also try searching for geographically tagged posts on networks like Instagram and Twitter in your neighborhood to connect with your neighbors.