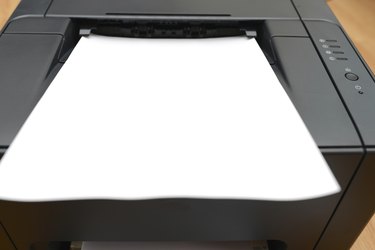 Unlike a network IP address, a Media Access Control -- or MAC -- address is assigned to your printer's network adapter by the device's manufacturer. This unique identifier can help you to secure the printer on your network by using your router's MAC address filtering feature. Once enabled, only a device with a MAC address on the filter list can access your network. To find your printer's MAC address, run the "arp" command using the Command Prompt utility. However, you will need your printer's IP address -- which is accessible through the Printer Properties utility -- before you run the command.
Find Your Printer's IP Address
Step 1
Press the "Windows" key, type "Devices and Printers," and then select "Devices and Printers" from the Results list.
Step 2
Right-click on the printer, then choose "Printer Properties" from the pop-up menu.
Step 3
Select the "Ports" tab, then select the "Standard TCP/IP Port" entry.
Step 4
Click the "Configure Port" button. The printer's IP address is in the Printer Name or IP Address box.
Obtain Your Printer's MAC Address
Step 1
Right-click on the "Start" button to display the Quick Access menu.
Step 2
Choose "Command Prompt" from the menu.
Step 3
Type "arp -a" (without quotation marks) at the command prompt, then press "Enter." Scroll down the list until you see your printer's IP address. Your printer's MAC address is listed next to its IP address. An example of a MAC address format is "00-1d-7e-e8-d7-27."