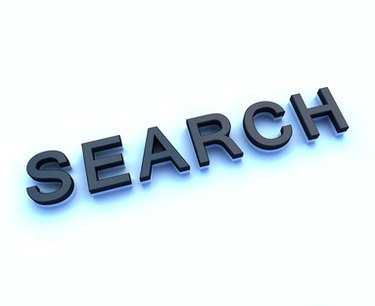 Google is a powerful search engine that is widely popular. People use it to find all types of information. Some may not know how to search Google to find someone's email address. Just being a little more creative with the search string can allow you to search the Internet for that much-needed email address. It is simple to learn and execute. Once you know how to do it, you will be a master at finding email addresses on Google in no time.
Step 1
Go to the Google home page in your Internet browser.
Step 2
Enter in the search string to target the email address for a specific person. Use "John Doe email address," "John Doe contact" or the person's email provider if you know it. For instance, if you know the person you are looking for has a Gmail account, use "John Doe Gmail" in the search string to find his email address.
Step 3
Click "Search" and wait for the results. Weed through the results until you find the address for which you are looking.
Tip
There could be quite a few results that don't match the email address for which you are looking. Add the city and state the person lives in to narrow the search.
Warning
For Google to find email addresses, the information has to be listed on the Internet somewhere. Google won't find the email addresses for everyone.