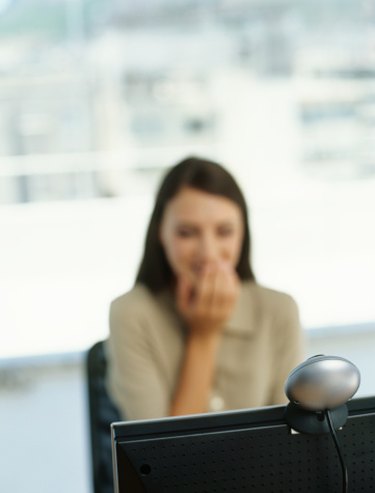 Many laptop computers come with an integrated webcam that makes it easy to video chat with friends or take still photos for uploading to social network sites. If the laptop shipped with a built-in webcam then it will also contain the software you need to operate the device. The pre-installed webcam software will included "cam" or "webcam" in the application title, helping you to find it on your laptop quickly and easily.
Step 1
Click the "Start" button on the computer's desktop task bar.
Step 2
Type "cam" into the search box at the bottom of the "Start" menu. The search function starts as soon as you begin typing the word.
Step 3
Read through the search results and find the application that includes "cam" or "webcam" in the title. You'll find this grouped in the "Programs" section of the search results. The application will usually also include a small camera icon to help you identify the webcam software.
Step 4
Double-click on the webcam application from the search results to launch the webcam software.
Tip
If you can't find the webcam software with the search utility then it might not be installed on the laptop, and you will have to install it. Insert the installation CD or DVD disk that came with the laptop and look for the webcam software in the "Programs," "Software" or "Utilities" folders on the disk. Double-click on the ".exe" or ".msi" webcam software installation file to install the program on your laptop. Alternatively, visit the support section of the laptop manufacturer's website to find and download the correct webcam software for your computer. You might also be able to download webcam software from Microsoft, depending on the make and model of the laptop.