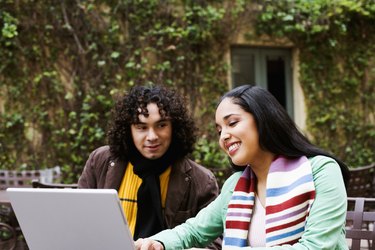 On a computer Web browser, you find out how many friends you have on Facebook by viewing your Timeline. Finding out how many Facebook friends you have while using your mobile device is more difficult. Instead of using the Facebook app, you visit the Facebook website in your mobile device's Internet browser.
Find Friends
When you log on to Facebook, you see the News Feed on your Facebook Home page. One way to see how many friends you have is to navigate from the Home page to your Timeline. Click on your name in the upper left corner of the screen. Look for Friends between About and Photos. Next to the word Friends is the total number of Facebook friends you have. Click on the Friends tab to see a breakdown of the different categories of friends or to search for specific friends.
Finding out how many friends you have on the Facebook mobile app is not as simple. Rather than count each of your friends individually on the Friends page of the app, go to Facebook.com in your phone's browser. Click on the Menu icon and scroll to the bottom of the screen. Click Desktop Site and click your photo on your Home page to go to your Timeline. Your friend count is listed next to Friends just as it is on a computer.