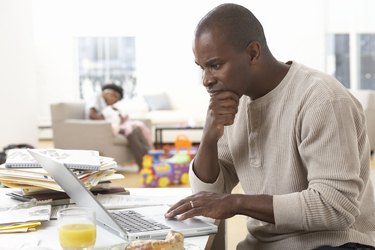 Despite the promises of many websites, there is no easy way to determine if someone is searching for you on the Internet. A personal site or profile with a social network may give some information about searches for you. If you're seeking Internet publicity, you should promote yourself through a unique name in online activities such as blogging, a personal site and public membership in social networks.
Searches Are Hard to Detect
All search engines and social networks track their search requests. However, this information is usually not publicly available for privacy or commercial reasons. In some cases, if you sign up for a search engine service such as Google's Adwords, you can get some information about the frequency of keywords, including your name, but there are hundreds of search engines. In addition, unless your name is rare, the existence of your name in a search record doesn't mean that people are searching for you.
People could also be searching for you by checking to see if your name is a domain name or by browsing social networks, online publications, organizations or other lists where your name might appear. These types of searches are undetectable.
Search for Yourself
Whether you want privacy or publicity, the first step is to search for yourself online. This lets you see how common or rare your name is, who you might be confused with and what sort of information is available to people searching your name. Use various search engines and search terms. For example, use your last name and your town or college. Use Google's Image Search to search for pictures of yourself. Check the websites of professional associations you belong to and see if there are lists of members. Even if you do not belong to any social networks and rarely go online, you might appear online in an old newspaper or magazine article.
To keep up to date with your appearances online, create a Google Alert for your name. This service can send you an email when your name appears on a Web page. It does not tell you when people are searching for you. Similar alerts are available from Talkwalker and Mention. The free alert services may miss some sources and may have a delayed response. As of August 2014, real time and more thorough monitoring services, suitable for businesses, can cost as much as $6,000 a year.
Detecting Searches Through a Personal Site
If you create a personal website, you can use Google Analytics or the hosting company's site statistics tool to determine the search terms people are using to get to your site. Depending on the rarity of your name and the other material on the site, the search terms can indicate if people are searching for you.
A personal website can make it much easier for people to find you online and can also be used for reputation management. It is almost impossible to remove an unflattering photo from the Internet, for example, but you can post several photos on your personal site to ensure the unflattering one is not the first one people see. A personal site through a free service such as WordPress can be used for reputation management but will not allow you to see details about visitors.
Detecting Searches Through LinkedIn
A free profile on LinkedIn can improve your online visibility and be used for reputation management. LinkedIn allows some users to view your full profile, and if both you and viewer have agreed to identify yourselves while browsing profiles, you see the name of the user who has viewed your profile. LinkedIn also gives you the number of profile views per week.
LinkedIn allows you to adjust the privacy controls on your public profile, so if you want to be on LinkedIn but don't want to be visible outside of that network, go to Settings and set your Public Profile to "Make My Public Profile Visible to No One."
Online Services
Several online services promise to provide information about people searching for you and improve your online reputation. At best, these services are simply a social network that you pay to join, and you can only get information about people who locate you on that network. At worst, you may pay substantial fees for no useful information. Any service that promises to identify people searching for you on the Internet or identify who is looking at your Facebook profile is misrepresenting itself.