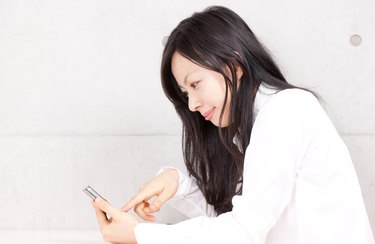 Boost Mobile devices require a four-digit personal identification number (PIN) to add minutes with a prepaid card, known as a Re-boost, to your cell phone. Boost phones come equipped with a default PIN programmed into the device. If the default PIN fails or forgets your chosen PIN, Boost Mobile will send the PIN to your device by calling its automated service from your cell phone. You must have active service to use this feature. If your service is currently inactive, retrieve and change your PIN from its website.
Step 1
Enter the last four digits of your Boost Mobile phone number when the "Enter PIN" screen is displayed. This is the default PIN code for all Boost Mobile prepaid devices and only differs if you manually selected a new PIN.
Step 2
Dial "611" from your Boost Mobile phone. The system will verify you are calling from your Boost Mobile device. Listen to the prompts and choose the "Account Management" option.
Step 3
Press the correct numerical key for the "Update Account Preferences" option. You will be prompted to enter your account PIN. Since you do not know your PIN, enter an incorrect four-digit number. When prompted to reenter your PIN, enter an incorrect combination once more.
Step 4
Check for an incoming text message. The automated system will automatically send your PIN number to your Boost Mobile device.
Step 5
Visit Boost Mobile's website and click the "my account" tab at the top of the page. On the "my account" page, click the "forgot pin" link.
Step 6
Enter your wireless number and press submit. Follow the prompts to either retrieve your PIN or change it to a new four-digit code. If you do not have Internet access or active mobile service, contact Boost Mobile customer service to access your PIN information.