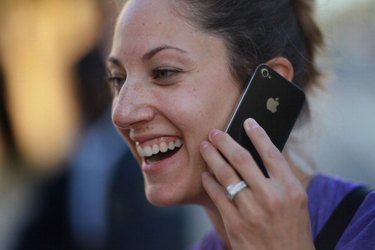 Apple's iPhone comes packed with a variety of features and services for both business and personal use. While the ample applications and features make life run a little smoother, they can also wreak havoc on your iPhone's battery. If you're having issues with your iPhone battery draining often, you want know the cause and correct the problem. Any one or a combination of iPhone services and functions can be responsible for draining your battery. However, they can be disabled to save battery life, when they are not needed.
Step 1
Adjust the brightness of your iPhone screen by navigating to "Settings," then "Brightness" and sliding the slider to the left to dim the screen. Alternatively, turn the Auto-Brightness feature on from the same screen. The Auto-Brightness feature allows the iPhone to adjust its screen brightness based on the current lighting conditions.
Step 2
Turn off Wi-Fi when in areas without wireless Internet access. Your iPhone continuously searches for wireless signals when not connected to the Internet, unless Wi-Fi is turned off. To turn this feature off, navigate to "Settings," then "Wi-Fi" and slide the button to the off position.
Step 3
Turn off push notifications. Many iPhone applications use push notifications to alert you of new data. This causes the iPhone to search constantly for new data from these applications. To turn push notifications off, select "Notifications" from the "Settings" menu, and set the notifications to off.
Step 4
Set your iPhone to fetch data less often. Frequent fetching of data, such as email, causes your iPhone battery to drain more rapidly. Change your fetch settings by selecting "Fetch New Data" from "Mail, Contacts, Calendars" in the "Settings" menu.
Step 5
Turn off 3G services in areas of limited 3G coverage. Although 3G allows your phone to load data faster, it also drains your battery. To disable 3G, navigate to the "Settings" menu, select "General" and then "Network." Set the "Enable 3G" option to the off position.
Step 6
Limit your usage of third-party applications. Some applications, such as certain games, prevent the phone's screen from dimming, use location-based services or reply heavily on the battery.