In the hustle and bustle of everyday life, we often get anxious waiting on new information. This is especially true when it comes to getting text messages from senders you cannot identify. There are many different ways to find out who has sent you a text message, from searching free websites to contacting your local cell phone provider.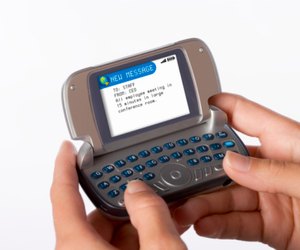 Step
Trace the number. Now more than ever, it's quite simple to find out from whom your last message came. You can visit websites that allow you to enter the phone number of the person that sent you a text. Depending on the amount of information you would like to retrieve, there may be a fee that must be paid. If you would simply like the location where the phone was activated, the service is free of charge. But, if you want the name of the person to whom the phone is registered, you must pay a fee.
Step
Utilize the menu feature on your phone. You can retrieve the phone number of the person that has sent you a text message. Simply go into the menu section of your phone and select the option that will display your previous text messages. Then, choose the "Inbox" option to view the list of messages. Select the message that you want and then click on the options tab to see the phone number. Many cell phone models vary, so be certain to consult the user's manual for help with your specific phone.
Step
Contact the phone company to see who has been sending you text messages. You can call or email customer service and they can retrieve the data for you. In certain situations in which criminal activity such as harassment or stalking has occurred, you can request that a private investigator or detective subpoena the phone records of all parties involved. Many phone companies also allow you to retrieve call information by logging into your account online. This is a fast and simple way to find out who has been sending you text messages.
Step
Perform a search on the search engine of your choice. After you have retrieved the phone number, enter into a search online. Browse through the search results to see if you can find any other information about the person such as name, location or occupation. This can be particularly effective at reporting spam messages to authorities and to put a block on the number to keep the sender from contacting you again.