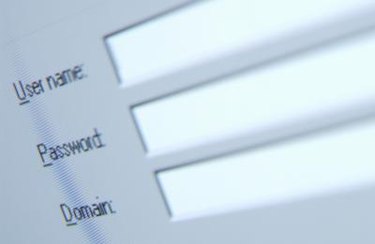 If your network is controlled by a server with Microsoft's Active Directory, each user will have a username and password to connect to his individual workstation and the server. Active Directory also controls each user's role in the network, such as the type of user and if he has administrator privileges. If a user has forgotten or misplaced a password, he may be locked out of his network workstation and the server. Though you can't see the current password in Active Directory, you can reset it. You will need to log into the server using any administrator account in order to reset a user password.
Step 1
Click the "Start" button from the server desktop.
Step 2
Choose "Control Panel" and double-click "Administrative Tools."
Step 3
Click the "Active Directory" option. A new window will pop up.
Step 4
Click the "Users" option from the console tree. This will open a list of current users on the network in the right pane of the window.
Step 5
Right-click the user name and choose "Reset Password."
Step 6
Type a new password in the text box, then confirm the password change. You can also place a mark in the box next to the "User must change password at next logon" option. This allows the user to choose his own password the next time he logs into the server or workstation.
Tips & Warnings
If you don't want the password to expire, place a mark next to "Password Never Expires."
You can also mark the option that makes sure the user cannot change his password if you are assigning him one. This can prevent lost passwords in the future.