An SD card is a small, removable memory device that is most often used in electronic items such as digital cameras. The cards are generally made out of plastic, so they are susceptible to damage if left outside of the device or a storage case. Typically it is the read-only lock on the card that breaks. But it's possible to fix a damaged or broken SD card.
Step 1
Align a paperclip alongside the SD card where the read-only lock originated. If the lock is off, the card cannot save content.
Step 2
Cut the paperclip with a pair of wire cutters or pliers to be the same size as the broken read-only lock.
Step 3
Place a dab of crazy glue along the paperclip. Do not apply too much glue; otherwise it will dry in clumps and could prevent the card from inserting into the electronic device properly.
Step 4
Press the paperclip piece firmly against the area on the SD card where the read-only lock broke off.
Step 5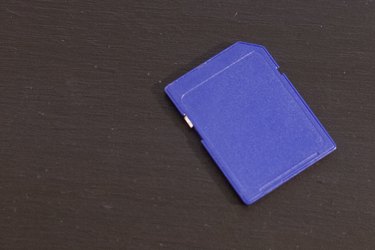 Allow the card ample time to dry before using it again.