When an iOS app encounters a bug, it might behave in unexpected ways, crashing the moment it opens, not opening at all or getting stuck on the title screen. Force quitting the app and then restarting it usually solves the problem. If that doesn't work, delete and reinstall the app.
Force Quit the App
Step 1
Press the Home button twice quickly to open a list of recently used apps. Scroll side-to-side to find the app that's not working.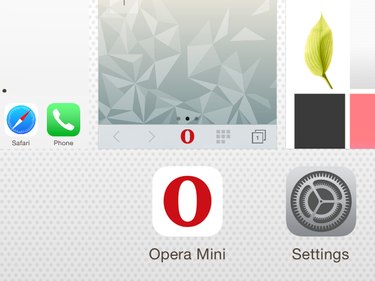 Step 2
Swipe the malfunctioning app's page upward to remove it from the list, forcing it to quit.
Step 3
Reopen the app as usual. After a force quit, an app reloads completely, rather than resuming from its last position. If the app again gets stuck, crashes instantly or won't open at all, restart your phone and this process. If the app still won't work, remove it from your iPhone and reinstall it.
Remove and Reinstall the App
Deleting an app from your iPhone erases all its saved preferences and data. Clearing out these materials often fixes apps that stop working after an update. Because you'll also lose your saved data in the app, you should only delete an app as a last resort.
Step 1
Tap and hold the app's icon until the app icons start shaking. Tap the X on the icon's corner to delete the app.
Step 2
Step 3
Search for the deleted app in the App Store. Tap the cloud icon to reinstall the app. The cloud icon indicates apps that you've previously downloaded. Even in the case of paid apps, iTunes doesn't charge you again when you redownload an app or other content by tapping the cloud icon.
Step 4
Open the app as usual and set up the app's preferences from scratch.