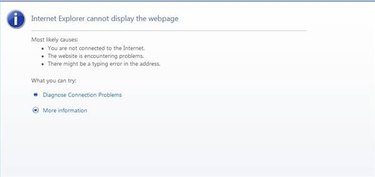 All you want to do is view a particular website, but when you open Internet Explorer and type in the web address or click on the page in your Internet Explorer Favorites, the page does not appear. Instead, you read a message announcing that the page cannot be displayed. Through some troubleshooting, you can determine whether the issue is with your connection, the website you are trying to view or Internet Explorer. Once the problem has been identified, it might be an uncomplicated fix.
Step 1
Find out whether you can view any web pages. Open Internet Explorer and type in the address of a site with which you are unfamiliar. If you need an idea, look around the room and type in a brand name you see, such as "Sony.com" or "Saltines.com." The reason for this is that if you have recently visited a site, the "cached" files might appear on your screen and not provide an accurate determination. If you are able to see a new site, the issue is likely with the website you are trying to visit.
Step 2
Check the connection to the modem or router. If you are unable to view any web pages, your connection might have been lost. Check physical connections to see if anything is unplugged. If you are using a wireless connection, verify that it is still working.
Step 3
Unplug the modem. Pull both the power cord and the phone line or Ethernet plug out of the back of the modem and leave it alone for a few minutes. Plug the cords back in and allow it to power up completely. Try the connection again.
Step 4
Contact your Internet service provider. A cable, DSL or phone line outage is a common cause for connectivity issues.
Step 5
Delete Internet Explorer's history. Close any open applications and open a new Internet Explorer window. Click "Tools" and then click "Delete Browsing History." Click each "Delete" button, except passwords if you allow IE to retain them for you.