To format an SD card in Ubuntu you can use either an external or built-in SD card reader. Additionally, download and install Disk Utility for Ubuntu. Insert the SD card into the reader and connect it to your computer if it's an external device.
Step 1
Click the Applications icon in Unity to bring up the search box.
Step 2
Type disks in the search box and then choose Disks in the Applications section of the search results.
Step 3
Locate the SD drive in the list of devices and click it to highlight it.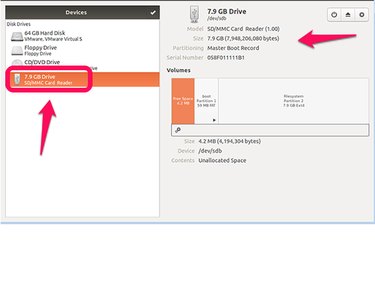 Step 4
Select the Gear icon and choose Format.
Step 5
First, select an erase method. For a quick format, choose Don't Overwrite Existing Data (Quick), or you can select Overwrite Existing Data With Zeroes (Slow) to shred the files on the drive.
Then, select a partitioning method. Choose Compatible With All Systems and Devices (MBR/DOS) to format for maximum compatibility. If your USB drive is greater than 2TB, choose Compatible With Modern Systems and Hard Disks > 2TB (GPT).
To format without a partition, select No Partitioning (Empty).
Choose Format to continue.
Step 6
Choose Format to confirm that you want to destroy all the data on the SD card and format it.