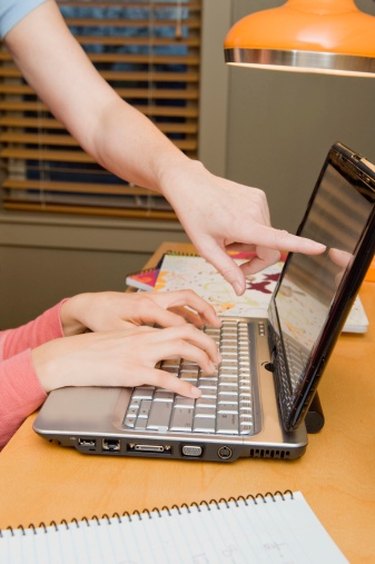 Swagbucks is an online rewards site that offers simple ways to earn free stuff. Users earn virtual currency, or Swag Bucks, by completing tasks, searching the web, shopping at their favorite retailers and completing special offers. Swag Bucks are accumulated in a virtual account and can be redeemed online for instant rewards or gifts, including money, gift cards or apparel.
Step 1
Invite your friends and earn up to 1,000 Swag Bucks per referral. Click on the "Promote" button at the top of your Swag Bucks toolbar. Select one of the email options. The "Find Your Contacts" button will search AOL, Gmail, Yahoo, Plaxo or Outlook Express email accounts. Swagbucks will send an email inviting your contacts to register and earn Swag Bucks. Choose the "Enter Email Addresses Manually" button to enter your friends' email addresses and a personal message.
Step 2
Earn 10 Swag Bucks for every free coupon you print and redeem at your local supermarket or drugstore. Choose the "Coupon Menu" button from the Earn category. Check the boxes of the coupons you want to redeem. Print them out, and redeem them at the store.
Step 3
Earn points by playing Swag Bucks games. Review the wide assortment of online games, including Crazy Taxi, Crusher, Word Chain Plus and Hungry Snake. Click "Play Now" for the game title you like, and play for free. You are eligible to earn Swag Bucks for each game. You can also enter a tournament for a chance to earn big points.
Step 4
Trade in your old cell phones, MP3 players, games, consoles and books for Swag Bucks. Choose the "Trade-In" button on the Swag Bucks toolbar. Look up your cell phone, game console, etc. Print a prepaid shipping label and trade-in receipt. Put your item in a shipping package, and mail with label affixed. You will receive Swag Bucks upon receipt of your electronics.
Step 5
Find limited daily deals from local and national retailers. Earn points with each purchase. Select "Daily Deals" from the Swag Bucks toolbar. Review the most popular offers from Tippr, Groupon, Eversave, HomeRun and Mertado. Click "Continue" to be redirected to the deal website. Click "Buy Now" to input your credit card information. After your order is processed you will earn Swag Bucks.