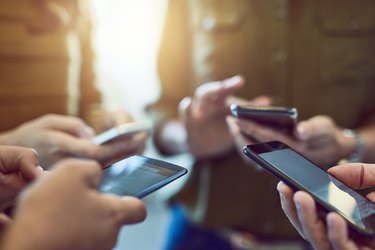 Registering a custom phone number, also referred to as a vanity number, is easy as long as the number you want is available. Businesses frequently use custom phone numbers because they want a catchy number that is easy for potential customers to remember and dial. When you think about all the radio and television ads that use phone numbers to spell a word, it's easy to recognize the power of owning a custom phone number.
Choose the Sequence
Before attempting to register a custom number, you must first select a number and determine its availability. A free vanity number lookup service can help you determine quickly whether the number you want is available. It's not uncommon to run through several options before finding an available number. This process is similar to choosing a domain for a website, and it requires some serious brainstorming to nail down a good fit.
Registration services such as Grasshopper offer a number-lookup feature to aid the process. Take advantage of the free services while working through your brainstorming session. First, write down 1-800-555-5555 on the top of a paper to set the sequence. Every vanity number requires seven digits or letters. Now, work on determining a word or acronym with seven characters that represent your business, nonprofit or representative body for the phone number.
Create at least a half dozen options before running an availability check. Creating a dozen or more is a good idea to weed out unavailable numbers. After narrowing down the options, present the available numbers to friends, family and other folks in the business. Outside input is always useful before registering the final number.
Now that you have a number ready, it's time to make the custom phone number official.
Register the Number
Spend some time researching vendors and plans to select the best option for your business. Prices vary based on the vendor and the features offered. Some plans are volume-based while others are unlimited and come with voicemail, forwarding services, apps, tracking and more. It depends on your needs for the business.
After selecting a vendor and the best plan, register the number and make the purchase. Many vendors operate on a simple monthly charge, but long-term contracts are also available. A contract may offer price savings for your business.
Registering a toll-free number is the only viable option in the United States. Custom local numbers are an option in a few other countries, but toll-free numbers are the approach for vanity numbers in the United States.
After completing the registration, set up call forwarding and any other features before testing the number. Use a landline or ask a friend to dial the number to ensure it functions and directs properly.
Vanity Number Generators
Having a hard time finding the perfect number? A vanity number generator is a handy tool for research and brainstorming. The numbers you personally generate may be taken, and a generator can help by expanding the range of possibilities. Conduct a quick web search to find multiple free number-generator services.
Use the generator to brainstorm and then refine the results. Carefully sort through the options and choose one with a good tone for your business. The ability to easily recall the number is also important. It ultimately helps with marketing and can boost sales. The return for many businesses is well worth the monthly cost for registering the number.