Paypal is one of the more popular ways to pay for items purchased online and the company has a dispute process in place. This helps protect buyers by making it easier for them to get a refund on purchases made using Paypal. To get a refund through Paypal, you need to start by opening a dispute charge.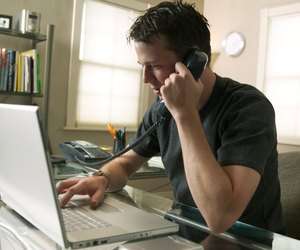 credit: Photodisc/Photodisc/Getty Images
Step
Visit Paypal and sign-in to your account. Look for "My Account" and select the "Resolution Center" option. Read through the dispute tutorials, which explain how the process works, what you need to do to file a dispute and the information needed.
Step
Find the transaction you need to dispute by looking through your history. The most recent charges are listed on the front page of your account, but you also have the chance to search through your transactions including those that occurred in the last few weeks or months. Select the transaction number and choose the "Dispute" option at the bottom of the page.
Step
Enter the details of the account in the dispute form. Paypal asks for the reason why you want a refund or want to open a dispute and gives you space for adding more details. Explain in clear terms why you need a refund, such as buying an item that arrived broken or damaged.
Step
Wait for a response from the seller and then log back in to your Paypal account to read the details and response. Then write your own response based on what the seller said. Paypal gives you the chance to correspond several times with the seller before making a ruling.
Step
Check your Paypal account frequently. When the company makes a ruling, you'll be notified by email and also have a notice on your account. If Paypal sides with you, then the refund is automatically credited from the seller's account and placed in your account.