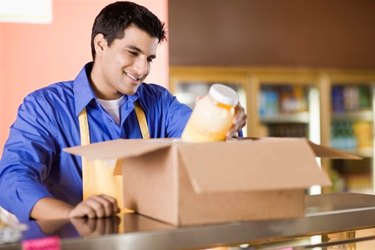 Learning how to get a VAT (value added tax) invoice for your previous Amazon purchases can help you if you wish to claim back the VAT on your purchase. Amazon is an online shopping website that sells books, DVDs, CDs, computer games, gadgets, kitchen appliances, tools, toys and many other goods. The items are either stocked by Amazon themselves or sold by another seller on the "Amazon Marketplace." You can obtain the VAT information on your purchases in a few different ways.
Step 1
Check inside the box that your item was delivered in. Usually, both Amazon and any third party sellers will include your VAT invoice inside the package. Some sellers do not include this information for various reasons, however, so it cannot always be found in this way. Ensure you've checked the confirmation email you received from Amazon for the VAT information.
Step 2
Log into your Amazon account and click on the link in the top right-hand corner of the screen to go to "Your Account." You will be taken to the main page for your account. Click on the "Your Orders" button that appears in the center of the screen. This should be a yellow button with a rounded rectangular shape.
Step 3
Select the desired time period from the drop down menu on the left hand side of the screen. Amazon automatically displays the orders from the past 30 days, but you can click on the field to bring up options for searching further back in your order history. Click on the "Go" button after you've selected your desired time period. Look to the right of the drop down box for this button.
Step 4
Scroll down the list of your orders to find the one you wish to obtain the VAT receipt for. When you have located the order, click on the "View Order Details" button on the left hand side of the screen, underneath the order date. Look to the right hand side of the screen to see if the VAT information is included there.
Step 5
Click on the "Print Order Summary" button in the "Payment Information" box if you wish to see a printable version of this information. Print or save the document as required.
Step 6
Contact the seller if you've ordered from the Amazon Marketplace and don't have the VAT information listed in the "Your Account" section of the website. Send the seller an email requesting the VAT information for your purchase. The seller should be able to provide you with the relevant details.
Step 7
Contact Amazon's Customer Service department if you have any further issues regarding your VAT invoice. Amazon will be able to provide you with an invoice for any purchase made from them, as well as handle any dispute you are having with the seller of your item.